ATI Quality Installations for Voice and Data Cabling
Is your business moving into a new location or expanding your current location? ATI can provide the right solution. We will work with you to design the best solution to fit your needs, your budget, and your timeline.
We know that each voice and data system is unique with different needs and requirements. The Professionals at ATI are here to assist you in choosing the best solution to support your voice and data system.
The technicians at ATI are experienced in the industry and Certify each cabling project ensuring a reliable voice and data system that you can depend on. We take pride in our installations making each cabling project a showpiece. We meet or exceed the industry cabling standards installing each cable in accordance with TIA/EIA-568 protocols.
VOICE AND DATA SOLUTIONS
The speed of your technology is only as fast as the cable infrastructure it runs on. It's a key part of any network, yet often overlooked.
Category 3,5e, 6 & 6a, 7
Coaxial Riser Cabling
Wireless Access Points
FIBER SOLUTIONS

Fiber optic cables can go 100 times further and carry 1,000 times more bandwidth than copper cables.
Single Mode & Multi Mode; OM1, OM2, OM3, OM4
Fusion Splicing
OTDR Testing
OUTSIDE PLANT

Outside plant cabling, whether copper or fiber, is generally installed as aerial cable between poles, in an underground conduit system, or by direct burial.
Aerial cabling
Copper Splicing
Duct bank Underground cabling
Fiber Splicing (Fusion & Mechanical)
Trenching/ Directional Boring
TESTING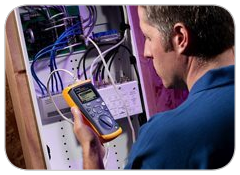 ATI guarantees that your cabling infrastructure will meet or exceed your system requirements. ATI Utilizes the latest copper testing instruments - Fluke and Ideal.
Our Fiber is tested with an OTDR tester.
CLIENT SATISFACTION
We service a variety of businesses across the Mid Atlantic area. Below are some of our satisfied clients.
ATI's Structured Cabling Partners